Brad Mayne was one of the key people I met on my very first #SportsGeekTrip when he was CEO of American Airlines Center in Dallas, he is now CEO & President at MetLife Stadium in New York I catch up with him to discuss his career in sports and his recent experience hosting Super Bowl XLVIII.  I also reflect on a nightmarish experience leading up to the NRL Grand Final that had a very happy ending.
On this podcast you'll learn from about:
The management differences between an indoor and outdoor stadium
How Brad's ability working with multiple ownership groups was vital in new role at MetLife Stadium
How the technology demand on stadiums keeps increasing
The customer service demands on stadiums and how MetLife Stadium can turn around a bad fan experience
Moving to paperless ticketing and RFID technology
What would you do if your phone died before the big game?
Resources from the episode
Brad's tweet morning after SB48
Luckily the cold weather didn't hit during the game, but it didn't miss by much.
Last time we met…
Social Media Post of the Week
Congrats to the South Sydney Rabbitohs NRL Premiers for 2014
Humble Brag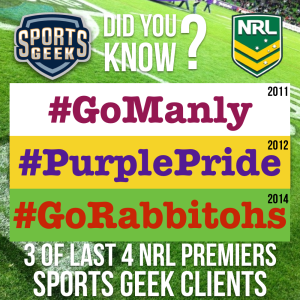 Thanks for the review on Apple Podcasts
Terrific for sports professionals
★★★★★ in Apple Podcasts by Soxboy46 from USA on May 5, 2017
The Sports Geek Podcast by Sean Callanan is a great sports podcast and does a deep dive into the business side of sports. He has educational guests who are knowledgable on the ever-changing digital and media landscape. This is must-subscribe podcast.