Sean catches up with Danny Keens, Director of Media Partnerships at Twitter, Australia.
On this Sports Geek Podcast you will learn:
Why Twitter want to work with sports teams
How Twitter is a platform for content of all kinds
How Twitter has evolved in past few years and continues to
Why Twitter partnered with ICC for a #CWC15 timeline
Twitter video how it is different to Vine and why it is important
What Twitter ad types are on the way that sports can leverage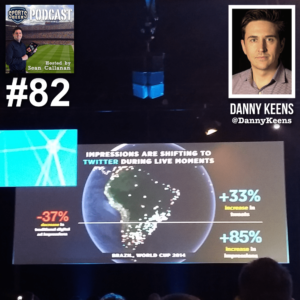 Resources from the podcast
Nice work from Jim Darrow from Detroit Tigers talking about SEAT
//
Posts from Twitter Australia you may have missed
Twitter all over the launch of NRL season
Some of the stats from #CWC15 game involving Australia
What the #CWC15 timeline looks like
Twitter Sports sharing Twitter activations like this one #OwnTheArch
Reframing where Twitter sits in the media a big part of Danny's role
.
Sports Geek Podcast by the numbers
Join Sean at #SEATLondon and #SBWeek
Join Sean at Lord's in London for #SEATLondon, grab your ticket now.
Contact Sean to claim 30 minute free Sports Geek Consulting session for #SEATLondon attendees.
Attendees include Arsenal, Manchester City, Manchester United, San Francisco 49ers, Atlanta Braves, English Cricket Board, MLBAM, New York Giants, Team GB, West Ham and more.
Danny Keens from Twitter Sports on #CWC15, Ads & more Transcription